Due to the remarkable success of this product, we would like to take this opportunity to make you aware that YOUR Deli Premium Chicken Paparikash™ is also available to meet the needs of restaurant wholesale requirements. We feel certain that you'll personally find our recipe to be a very likeable dish, one that your customer's will enjoy.
YOUR Deli Premium Chicken Paprikash™ is made from scratch. We take extra patience to blend the perfect combination of fresh USDA chicken breast with carefully selected dairy and delicious, homemade spaetzel dumplings. While YOUR Deli Premium Chicken Paprikash™ is a very labor intensive product on our part, we see it as a worth-every-minute, mouthwatering meal that your customers will come back for again and again.
YOUR Deli Premium Chicken Paprikash™ is a flexible addition to any menu and can easily be added as an entrée, an appetizer or a delicious, gourmet soup.
The only preparation required is heating. Our packaging provides 100% yield and essentially zero waste.
Call us today for more information regarding serving suggestions and wholesale sales.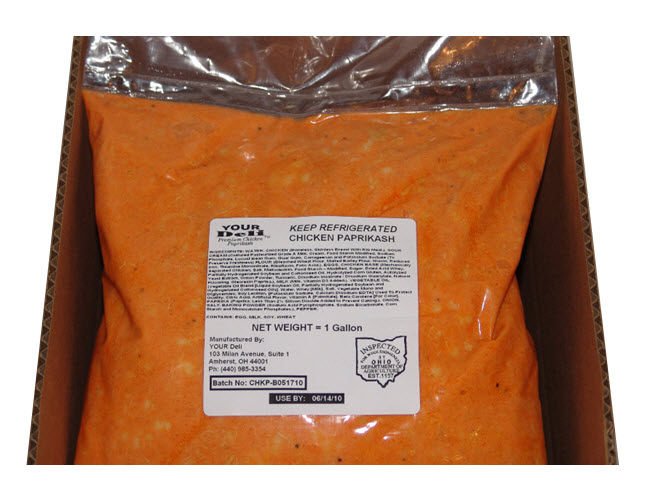 Heat and Serve One Gallon Bag of
YOUR Deli Premium Chicken Paprikash™
YOUR Deli Wholesale Sales can be reached by calling 440-985-3354.